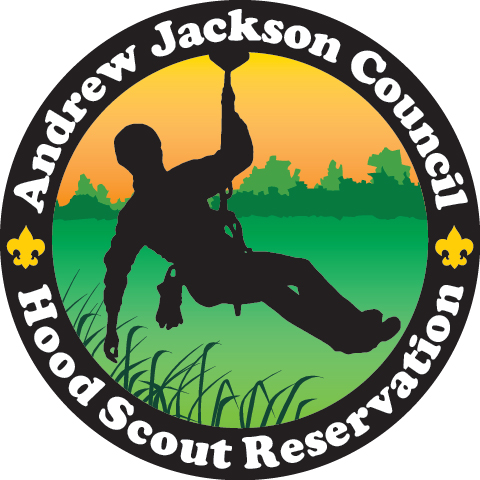 Challenge Course
Build your on adventure on the Challenge Course
The goal of the Andrew Jackson Council Challenge Course Committee is to make the challenge course programs easily available to youth and to the public in Mississippi. We have a group of certififed instructors that is willing to help your unit get involved with The Challenge Course. These Scouters are available to teach the Climbing merit badge, and provide high adventure opportunities for your youth. Let us know what you would like and we will make effort to make it happen within the guidelines of our standard Operating Procedures and BSA policy.
Challenge Course Programs
To set-up a challenge course program please fill out a camp usage form and submit it to Council Serivice Center. Please email for pricing information
Climbing
Three climbing walls which are approximately 50'high. The Climbing walls range from easy to difficult. This is for youth 11 and older and adults.
Rappelling
3 rappelling walls. Two walls are 30' and one is a 50' rappel. All rappels are high anchor rappels and are on a flat wall. The two 30' rappels are for youth 9 and older, and adults. The 50' rappel is designed for youth 11 and older, and adults.
Bouldering Wall
20' long bouldering wall that is 8' tall under a covered pavilion. Designed for youth 6 and older, and adults.
Swing by Choice
This is an approximately 50' tall giant two pole swing. It is a single person swing lifted into the air by a team of people. The swinger can decide how high and when they want to swing. It is primarily designed as a COPE element. It is designed for youth 11 and older, and adults
Dual Zip Lines
Two approximately 475' parallel zip lines. Both begin at a 50' height and end on a platform that is 20' off the ground. The zip lines can be used for individual zipping or racing each other. At the end of the Zip is the Perfect Decent belay device where the zip line rider is in a 20' belayed free fall from the zip line receiving tower to the ground. It is designed for youth 11 and older, and adults
Crate Stacking
Is a competition event where teams can compete to see who can stack the most milk crates. Teams are top belayed for safety. It is designed for youth 11 and older, and adults.
Challenging Outdoor Personal Experience

(COPE)
COPE is designed to meet the needs of people of all ages who are seeking ways to challenge and expand their physical and mental abilities. As a noncompetitive program, COPE permits every participant to succeed. The group activities are ideal for enhancing the leadership and teamwork of Scout units, and activities that challenge individuals can be used to promote self-efficacy and personal growth.
Program emphasizes eight major goals.
Communication

Planning

Teamwork

Trust

Leadership

Decision Making

Problem Solving

Self Esteem
Program uses the following events
Initiative Games

Trust Events

Low-Course Events

High-Course Events